CAUSA 349 Matthew Keading | Remastered
So, quickly regarding updates… Last week, the Rona took out the scheduled model at the very last minute; sadly, the majority of these virile young studs never got vaccinated (especially my newest recruits). And unfortunately, this week, something not-the-Rona (but felt worse) leveled me for four days straight. Thankfully, the brain fog lifted, and I'm only coughing up a partial lung at lesser intervals throughout the day. Hopefully, the Universe will work with me this coming week, and I'll have a new CAUSA guy for y'all.
Now, onto this remastered original with Chad Brock & Matthew Keading. It's always the skinny guys… 🍆
Matthew Keading is a straight, curious 18 y/o twink from N. California who loves video games. He's on vacation here in Florida when he came by the ClubAmateurUSA Studio to experience his first erotic massage that just happens to be with a man. In-house masseur Chad Brock cannot wait to get his hands on Matthew! He begins with a light body rub and a massage of Matthew's hole. Since he's so relaxed, Chad begins some easy fingering — followed by a nice rim job. Now, with Matthew up on all fours, Chad has his balls & cock in-hand, rubbing & tugging, while fingering Matthew with his other hand. Chad asks him to turn on his back, and without a doubt, Matthew is liking this new sexperience! Chad takes Matthew's cock in his mouth — giving him some oral with an abundance of firm ball grabbing & stroking action. Matthew begins to quiver, shiver, & tremble as he delivers a splattering cumshot from his stomach to his neck! When asked how it was for him, Matthew simply replied that it was amazing, and he'd be back!
Enjoy!
CB ~ Casey Black ~ Messing. With. TexAZ. ©
P.S. Just an FYI: "The term masseuse is a French word that refers to a female who practices massage. Males in the industry were known as masseurs."
Originally published: Saturday, November 11, 2023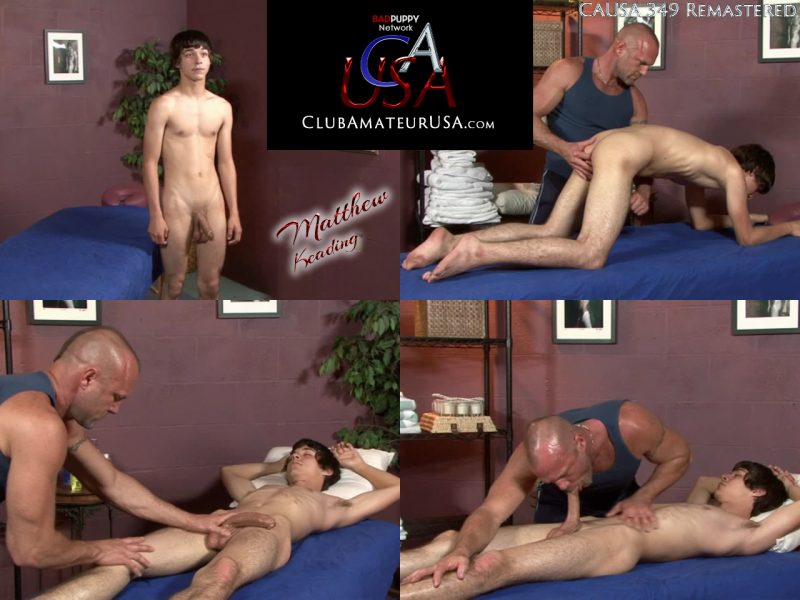 #clubamateurusa #causa #model4causa #caseyblack #rubntug #gaymassage #eroticmassage #sexploreyourcuriosity #gayamateurusa