20th Anniversary with Mata!

Because he's… MATA!
Welcome to ClubAmateurUSA's 20th birthday / anniversary celebration! It is a party package of mixed emotions!
I've been bouncing this particular storyboard around in my head for months, and I've not been able to land on exactly what I wish to convey — other than THANKS TO EACH & EVERY ONE OF YOU for supporting CAUSA & me for 20 effing years!
When my former business partners (Jeff & Val) and I sat by the pool during the Summer of 2003 envisioning the site, I do not believe that I ever thought that 20 years later it would still be online. And miraculously, after selling ClubAmateurUSA to the phenomenal human beings at Badpuppy (three with whom I still work: co-founders & husbands, Bill & Steven, and customer support god, Jeff) in 2008 due to the Great Recession, somehow the Universe found a way for me to return to my baby in 2011. And now, 20 years later, as Bill & Steven have begun their transition out of Badpuppy, my baby is coming home to me (thus, the mixed emotions).
So, I'll not meander through a novella describing the past 20 years because each storyboard accompanying every video that I shot is a recorded history of the past 20 years — along with the accompanying updates via the CAUSA Classics.
No, once again, I'll end with the expression of my wholehearted gratitude to Jeff & Val for taking a chance on me in the Summer of 2003, to Badpuppy Bill, et al, for saving my baby from going dark in December 2003 & once again in the Fall of 2008, returning me to the helm during the Summer of 2011, and, as always, to each & every one of YOU who have shown loyalty to & financially supported ClubAmateurUSA over the past 20 years! (Especially you, Mr. Riley!)
All of y'all have my undying love & gratitude! Cheers to another 20 years! (GULP!)
Now… GO! Enjoy because he's… MATA!
Enjoy!
CB ~ Casey Black ~ Messing. With. TexAZ. ©
Originally published: Monday, October 2, 2023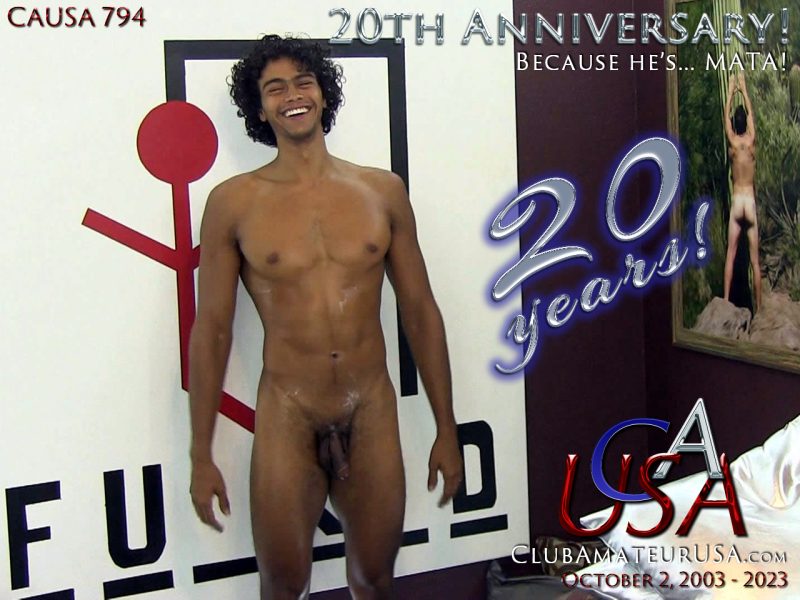 #clubamateurusa #causa #model4causa #caseyblack #rubntug #gaymassage #eroticmassage #sexploreyourcuriosity #gayamateurusa