CAUSA 775 Magnum

Over the past few years, I've had multiple requests for me to recruit a Silver Daddy for the CAUSA table. While your requests did not go ignored, I found that it was much more difficult to recruit guys in their 40s or 50s because they're much more established in their lives, and they tend to have greater concerns in terms of personal & professional consequences when choosing to participate in adult content.
Thusly, the reason why OnlyFans & the like are the bane of my existence is because guys can choose to participate in adult content while never showing their face outside of the paywall.
I get a shit-ton of hot guys willing to shoot content for ClubAmateurUSA, but they don't want to show their faces. That is perfectly okay for a certain subset of adult content consumers, but over the past 20 years, I have found that masked / hidden identity videos do not do well with the CAUSA audience (neither through membership satisfaction nor through new subscription conversions). As I have always said, because the focus of ClubAmateurUSA content is on guys having real, authentic sexperiences, at least, 75% of the eroticism of my content is the visible & audible demonstrations of their pleasure seen from the neck up (pulsing veins included). Otherwise, to me & to a majority of CAUSA viewers, a cock is a cock is a cock is a cock.
I spent more than a year trying to bring a guy like this to the table. So, when Magnum appeared in my AdultFriendFinder Inbox late last Summer, I was rather surprised to say the least. Given that he'd had a profile on the site for the past ten years & was a tried-n-true, diehard swinger, why, suddenly, was he interested in shooting one of my videos?!
Interestingly, Magnum's public facing pix only showed his well-developed torso (especially for a then 52-year-old man). It wasn't until I got behind the friend-wall & saw his private pix that I decided to move forward with him. So, I sent him off to fill out the online model application, and when I opened the first image that Magnum attached in the model app, I knew that he would be the new CAUSA 50+ Poster Boy!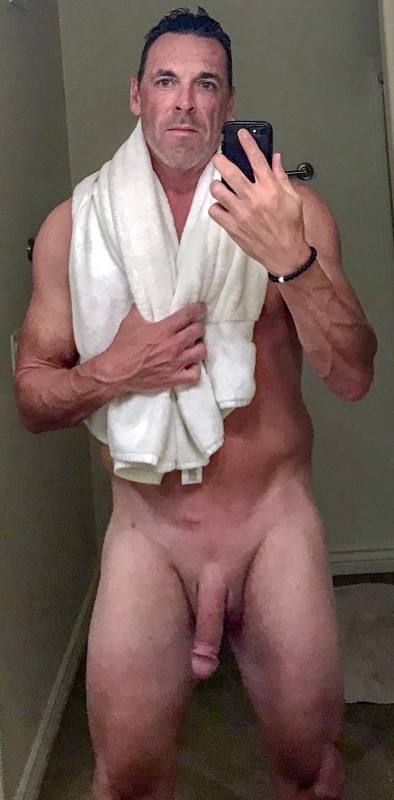 DAYUM!
I had him scheduled the same day, and two days later, the morning of the scheduled shoot, Magnum texted me to say that something had come up at work. When I attempted to reschedule for later that week, I got the, "I'm way too busy right now."
Yeah, after 20 years in da biz, I know the proverbial cold feet when I encounter 'em. So, I didn't press the issue & left it in Magnum's hands to reach out to me when he was again available & ready to reschedule the shoot.
Imagine my surprise when I received a new message from him on January 8th of the new year telling me that he was ready to reschedule.
Mmmmkaaaay…
So, on Tuesday the 10th when I was back in official work mode (I do try to step away from all things adult content on Mondays; Mondays are like a religious holiday for me if I'm going to maintain my sanity after being a smut peddler since my beginning days at AmateurStraightGuys in June 2002), I messaged Magnum. I heard back from him on the 11th, responded to him, and once again radio silence. "Oh, joy. Here we go again."
Walk away.
That, I did, until I finally heard back from him this past Tuesday, and this time, I wasn't going to let him slip away. By Thursday afternoon, Magnum was sliding onto the CAUSA massage table already engorged & tingling.
Straight. Married. Swinger. Handsome. Built. Endowed. Curious.
Having just turned 53, Magnum checked all of the boxes for my ideal ClubAmateurUSA "Mature Man" poster boy!
So, this week, we go from Quinlynn, who had, as site member Clubby stated, a PCAT ("Post Club Amateur Trauma") to Magnum who has already committed to returning in a couple of months because he wants to go for two cumshots his next time on the table.
Enjoy!
CB ~ Casey Black ~ Messing. With. TexAZ. ©
Originally published: Saturday, February 4, 2023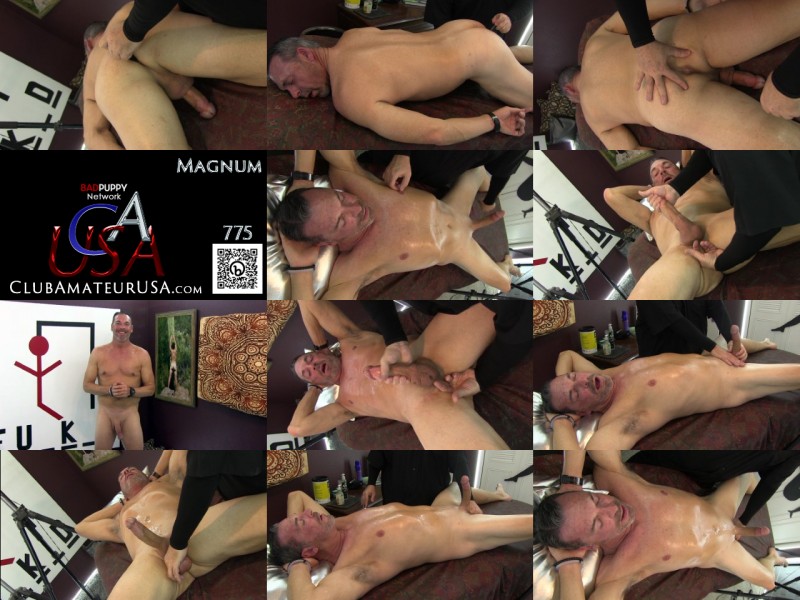 #clubamateurusa #causa #model4causa #caseyblack #rubntug #gaymassage #eroticmassage #sexploreyourcuriosity #gayamateurusa