Classic CAUSA 012 Leo

Since February 2023 is already upon us, it feels as though I'm going to blink & October's 20th birthday / anniversary will be here. 20 dayum years. Good lawd! 😋
So, I decided for this week's Classic CAUSA to go all the way back to one of the first 20 videos in the members' area when ClubAmateurUSA launched. CAUSA 012 was Leo's first foray into adult content at 20 years of age, and this blonde-haired, blue-eyed hottie later returned in CAUSA 058 (June 2004), and y'all got to see just how cute he was.
Today, Leo is (GULP!) 40, and via social media, I can see that he's still as handsome as ever. And here's what I had to say about this O.G. video 20 years ago:
Well…take our word for it, Leo is a hottie. Given that he was an adult, amateur video performer virgin, Leo wasn't quite comfortable showing his face on camera just yet.
At 20 years of age, this 5'10, 160#, blonde-haired, blue-eyed cutiepatootie is lookin' to explore his bi-curiosity. So, yup…we'll eventually get to see all of him.
But for the time being, we know that you'll thoroughly enjoy seeing as much of Leo as you can during his rub and a tug.
Enjoy!
CB ~ Casey Black ~ Messing. With. TexAZ. ©
Originally published: Saturday, January 28, 2023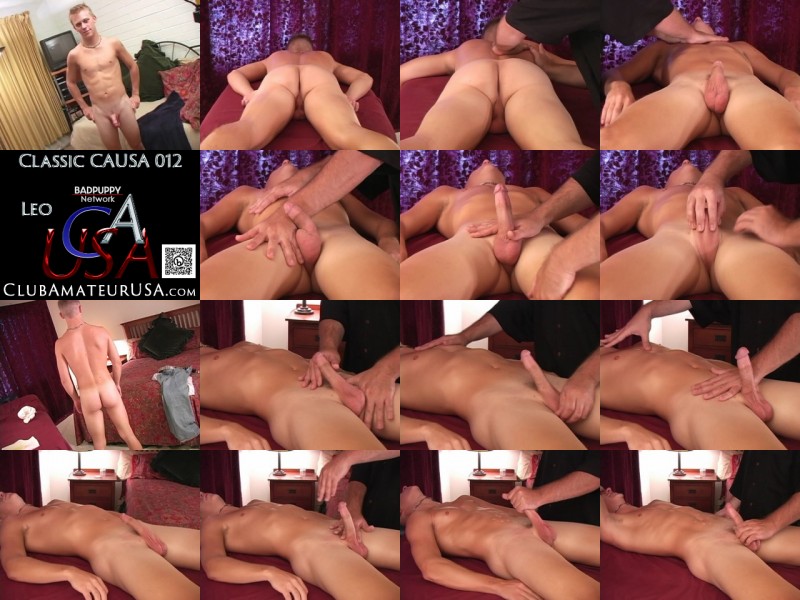 #clubamateurusa #causa #model4causa #caseyblack #rubntug #gaymassage #eroticmassage #sexploreyourcuriosity #gayamateurusa