CAUSA turns 19 with Sherman Maus!

October 2, 2003 – October 2, 2022: ClubAmateurUSA turns 19!
What's that old adage about "You can't teach a more seasoned & experienced dog new tricks"? Well, in Sherman Maus' case, you CAN!
September 2021, when I was working on CAUSA's 18th birthday content, Sherman contacted me to let me know that he was in the PHX area & would love to shoot a video for ClubAmateurUSA. Unfortunately, my birthday content was in the can, so to speak, and he was only in town for another 24 hours. So, we agreed that when he drove back through in his R.V., I'd get him scheduled to slide onto the table.
Fast forward to August 2022, Sherman texted me well in advance of his PHX arrival. So, we scheduled for an early September shoot when he was, again, going to be in metro PHX. In the meantime, I began planning the September shoots leading into ClubAmateurUSA's 19th birthday, and I recognized that the bulk of the past year's content was shot with returning models.
So, as with everything I do, there is always a method to my madness.
August was a dead zone in terms of scheduling, both, new & returning models (that is normally the case every summer, year after year). Also, the past year or so has shown that a lot more guys are open to the CAUSA sexperience; they just don't want to show their faces. Literally, in the past 48 hours, I have interacted with three guys from AFF who want the sexperience, but as soon as I sent them off to my fully detailed online model information page & model application, I received texts back from all three, "Do I have to show my face?"
And yet, another reason why the Fans sites have fucked it all up for the rest of us, but yet, I digress.
Meanwhile, back to my planning for the October birthday…
Once I realized that bringing recurring CAUSA guys in to film in August would limit my model pool for returning guys in October, I decided to break up CUMpilation 2022 into four segments for the month, and then, when Sherman Maus re-appeared with an early September scheduled shoot, that's when I decided that this year's birthday celebration would be future focused & not a retrospective.
It was December 2019 when Anthony Duran filmed Sherman & Joel Someone for Badpuppy, and during my preparations to push that scene live, Sherman's authentic energy resonated off the screen for me. Literally at the time, I said to the Badpuppy team that I could envision Sherman on the CAUSA massage table. And then, last year, when Sherman contacted me while in PHX, I knew that I wanted him in the ClubAmateurUSA repertoire after seeing that he'd fully embraced his Zaddy status.
So, I am thrilled today on ClubAmateurUSA's 19th birthday to present to all of you big-hangin' Zaddy, Sherman Maus!
Enjoy!
CB ~ Casey Black ~ Messing. With. TexAZ. ©
Originally published: Sunday, October 2, 2022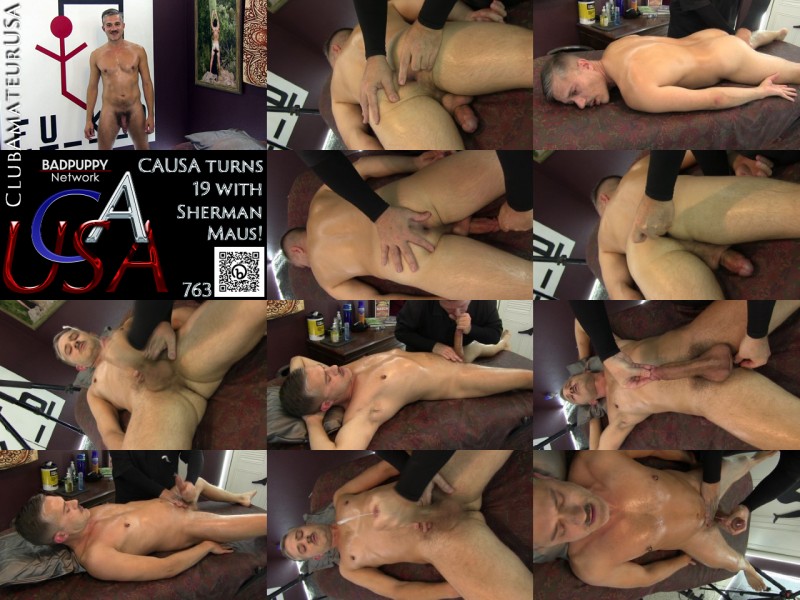 #clubamateurusa #causa #model4causa #caseyblack #rubntug #gaymassage #eroticmassage #sexploreyourcuriosity #gayamateurusa