CAUSA Classic CUMpilation Shayne

For this States-side holiday weekend, I'm thrilled to bring back Shayne in an epic CAUSA Classic CUMpilation with his nine scenes in an over 6-hour video!
From 2004 to 2008, Shayne was a ClubAmateurUSA fan favorite, and then he returned for the 10-year anniversary in 2013 when he was 28 years old.
So, without further ado, login & start your download, grab a new bottle of I.D. Millennium, a fresh cum towel, & prepare to binge six hours of Shayne!
CAUSA 077 | November 2004
You know when "the one" walks through the door. He's got "the look" that makes you steal a second glance and gives you a little moisture down below. Hehehe…
I knew when Shayne contacted me on my favorite sex & swingers site, that I was hell bent to capture him on video. He's young, hung, hella cute, and sexually curious. Uhm… PERFECT!
So, the evening that we exchanged emails, I immediately gleaned his availability and pushed to get him over for a shoot sooner than later. We exchanged our last email about 1:30 AM. Shayne phoned me at 9:40 AM, and he was in my home on the massage table at 10:45 AM. LOL!
There's no mistaking that if he wants to play in this industry for awhile, he'll definitely do well. I've told Shayne that I want to work with him as long as he's willing, and we've outlined a shoot schedule for the next few months.
Without further adieu, I present Shayne's rub & tug on ClubAmateurUSA.com. I know that once you see this guy in action you'll be as I — wanting to see as much of him as possible, as often as possible, and in as many sexual situations that he's comfortable with as is possible. Enjoy!
CAUSA 080 | December 2004
There's nothing like getting to play with the hottest boy-toy at eight o'clock in the morning… LOL
Due to Shayne's work, school, and travel schedule the only time that he could fit in his second shoot was at 8 AM. Well, you know me… sacrifice, sacrifice, sacrifice… 😉
So, here I am at 8 AM last Tuesday morning, teaching Shayne the pleasures of dick sucking, ball licking, and ass eating.
Interestingly enough, from the moment Shayne dropped trou, he was half hard. Of course, once the butt munching began, he was at full staff and you can hear his moans.
Needless to say, I would love to start every day out like this… Hehehe…
Enjoy Shayne's Round Two!
CAUSA 116 | August 2005
You know that you're doing something right when a guy's eyes continually roll back in his head while you're playing with him! LOL!
That was definitely the case when Shayne made his return to the Smut Palace for his third shoot. I had no idea till I was capturing the video to my PC for editing and saw just how often Shayne was having out-of-body pleasure. 😛
I was thrilled earlier this week when I received this email from him…
"Sorry we lost touch. School was hectic, and this of course wasn't a top priority. However, I did enjoy every minute of it, and I would love to revisit the experience!"
So, I was quite surprised given that my efforts to reschedule Shayne in February and March were rebuffed, and then he became non-responsive. I assumed that he'd freaked out from his prior sexploration (even though he claimed at the time that he thoroughly enjoyed his previous shoots). Evidently, my assumptions were completely off base.
THANK GAWD!
As an aside note, I had my hot, uncut German friend come into town today and swing by (as he always does) before visiting his family in Northern Arizona, and sans cameras, he came twice in 20 minutes. Many times in our hour session, he was teetering between tears and laughter because of the intense pleasure that he was feeling. As he described it, no other is able to do the same thing to him.
When Hunter arose from his latest shoot (to debut in a week or two on CAUSA), he asked me if I've ever had guys to feel so light headed after orgasm. I was happily able to answer in the affirmative.
After all of that (and my previous experiences), I am fully able to identify with why Shayne's eyes stayed rolled back inside of his head for the majority of this shoot.
And ya know what… You can go to other like-genre sites and see straight guys getting played with by other guys much hotter than me (and we all know of which sites I speak), but I double-dog-dare-ya to find another site where the focus of the video is on the MODEL (and NOT on the webmaster) where HOT model after HOT model has out-of-body pleasurable sexual experiences, and he continually chooses to come back for more and more and more… If I want to see a perfunctory, emotion-less orgasm… well… I'll go join those other sites… As should you…
Because Shayne, Billy, Avery, DJ, Tristan, Ian, Hunter, Casey, Freddie, Liam, Kip, Gabe, Clay, et al, aren't fucking & sucking their way through those other sites for the cash (as they are more than free to do), but they're appearing exclusively on ClubAmateurUSA.com because they are able to freely explore their sexuality (without pressure to step outside of their comfort zone) and have PHENOMENAL orgasm after orgasm and get paid). Wouldn't you? lol…
This is reality, folks! There's no hocus pocus going on here. The guys are presented as they are. What they tell me is what I say to you. And the stories that I convey are based on that information as well as what happens during that particular shoot.
At the end of the day, I'm here to provide my models the utmost in pleasure, and in turn, hopefully, provide a similar experience for all of you. And that's what it's all about!
Enjoy Shayne's latest visit to the CAUSA massage table.
CAUSA 146 | February 2006
Rolling, rolling, rolling…
I always know that I'm doing something right when I shoot Shayne and his eyes continually roll into the top of his head.
This video is no exception. In fact, this is one HOT, HOT, HOT video with Shayne. I've been working on this update for three days because I could only handle it a little bit at a time.
Shayne's reactions during this video definitely rate two boners up. LOL!
CAUSA 162 | June 2006
Well, it's been over a year in the making, and it finally happened…
The emails were countless requesting that I pair Shayne with this model or that model, and I did have him scheduled in January to do the shoot with Kole. As the time drew near, Shayne freaked out, threw up, and no-showed for the video shoot (thus, the surprisingly erotic matchup between Kole & Hayden).
Toward the middle of April, I received an email from Shayne stating that he'd participated in his first MMF sexual encounter & was ready to do a shoot with another guy. I, immediately, sent an instant message to Ridge to find out if he was ready to take that step, and if so, when would he next be back in Phoenix.
We got it scheduled for the beginning of May, and another surprise, it came off as planned. WOO HOO!
Shayne was as nervous as the proverbial whore in church, and Ridge turned out to be quite the trooper. On this particular day, I got four ejaculations out of Ridge — two for his "Round Two" shoot and another two in this one! DAYUM!
These guys look stellar together on video, and this turned out to be a rather hot video. Between the two of 'em, we had 16″ of fun. 😛
CAUSA 173 | August 2006
Upon returning from a relaxing sabbatical in a much cooler climate, I received an instant message from Shayne. He was wondering if I had any video work for him. Of course, given that he's one of my requested models, I told him to come on over!
In Shayne's previous shoots, we've not really pushed the proverbial envelope when it comes to ass play, so I knew that I wanted to go a little, er, deeper with him this time.
Needless to say, Shayne's trademark responses were in full play throughout this shoot. His eyes were rolling back; he was biting his lower lip and gritting his teeth; and of course, lots and lots of groaning.
Luckily, when I got back into town my second digital camcorder was back from Canon after an almost three-month absence, so I was able to capture Shayne in all of his glory from two different angles. And what beautiful and erotic angles Shayne gives us…
CAUSA 232 | October 2007
It's been feeling like old-home month here at the CAUSA Porn Palace. First Devin, and now I received a surprise email from Shayne — just checking in. As soon as I heard that he is getting married in November, I asked him if he'd be willing to do one more shoot before shackling on the "old ball and chain."
Another surprise when without hesitation, Shayne said, "SURE!"
Since it'd been almost a year that I'd seen him on my favorite sex and swingers site, I think that Shayne was being a good boy & not playing around. My suspicions were confirmed when Shayne emerged from the shower before the shoot, and his cock was already at half mast.
I started taping with the first camera while I setup the second camera because, as you'll soon see, Shayne was hard and raring to go. Given his anticipation, it wasn't too far into the shoot with me stroking his raging erection & fingering his tight hole, that Shayne was ready to pop.
With a little prostate massage, sucking, licking, rubbing, tugging, and some Fleshlight action, Shayne's return to CAUSA after more than a year away turned out to be one helluva hot video!
CAUSA 253 | March 2008
I'm propping this video to the site a day early due to the adult industry conference, The Phoenix Forum, starting today. I'll be hangin' with my friends from Badpuppy, learning a few new things about the current state of the industry, and drinkin' several cocktails while lounging by the pool. With that said…
This week's video update is SMOKIN' HOT! It was originally intended to be the CAUSA 250th video, but both Shayne & Ken Mack were down & out with the flu for several weeks. Well, we were finally able to make it happen a couple of weeks back and SHAZAM!
This is a much different Shayne than the one who no-showed for his shoot with Kole because he was freaked out & throwing up — or different than the one who had performance issues during his video with Ridge.
This Shayne was engorged, tingling, and anticipating by the time I put him in the shower before Ken Mack arrived. Twenty-five minutes later when they sat down on the bed, Shayne was at full mast.
In all actuality, I did not believe that I would be shooting more vids with Shayne after his wedding last November. So, I was thrilled to hear from him & even more thrilled to find that he was really into it.
Pay attention ladies & gentlemen since this is Shayne's first time being penetrated by another man. He took Ken Mack's big ol' schlong like a champ!
And speaking of taking things like a champ… Ken Mack sat right down on Shayne's eight incher & rode him like a city slicker at Gillie's! (WOW! There's a random, historical, pop-culture reference. LOL!)
So, grab a big ol' cum bath sheet and…
CAUSA 417 | October 2013
Shayne originally filmed with me on November 23, 2004 when he was 19 years old. Between 2004 & 2006, he shot six videos for CAUSA, and with one in August 2007 & one in March 2008, this 10-year anniversary video makes for Shayne's ninth shoot for CAUSA & me. I think back almost nine years ago & giggle. I've practically watched him grow from a teenage boy to a well-rounded, successful young man. Makes me smile, and as I expressed to him, very appreciative that he (and so many others) chose to sexplore on video for ClubAmateurUSA.
As I wrap up this ten-year anniversary celebration with this shoot with CAUSA's most prolific blue-eyed (always a rollin' back up in his head) boy-toy, Shayne, I must take a moment to express my utmost gratitude to my former business partners & CAUSA founders, Jeff & Val, without whom these ten years would not have been possible. It was wonderful to see them two weeks ago in Scottsdale & reminisce about those first five years, and I have to give a shout out to Carol & Julie who were my open-minded, lesbian landlords who never expressed one qualm with me smut peddling out of their Old Town complex, but most importantly, I give them my love & appreciation for ten years of an amazing friendship with lots of laughter & a few tears, good music & movies, the good the bad & the ugly of American politics, and untold bottles of great vino, vodka, & gravy (Carol's homemade marinara). Of course, without the wonderful folks behind the proverbial curtain at Badpuppy, CAUSA would not have made it to ten months, much less ten years. So, to Bill & Steven, Lisa & Ray, Jeff, Ferrell, David, Mary, Amanda, Ben, Curt, Jamie, Jonathan, & Max, thank you for all of your support, encouragement, and for putting up with my passion that I expressed via voluminous vitriol. I know there were moments where it wasn't easy.
As I look forward to the next ten years, much gratitude to Badpuppy's new owner, CJ, who is giving me the opportunity to continue to live my passion.
Finally, there are two groups of folks without whom there would be no ClubAmateurUSA. Firstly, for every man, young & not so young, who graced my doorstep & opened yourself up to "sexplore. your. curiosity." on video & the CAUSA massage table, I am forever in your debt. Secondly, from myself & all of the afore mentioned to all of you who have supported & remained loyal to ClubAmateurUSA for ten years, we are humbled by your generosity. Thank YOU for getting us to ten years!
And without further ado, I give you Shayne's ninth CAUSA video…
Enjoy!
CB ~ Casey Black ~ Messing. With. TexAZ. ©
Originally published: Saturday, May 28, 2022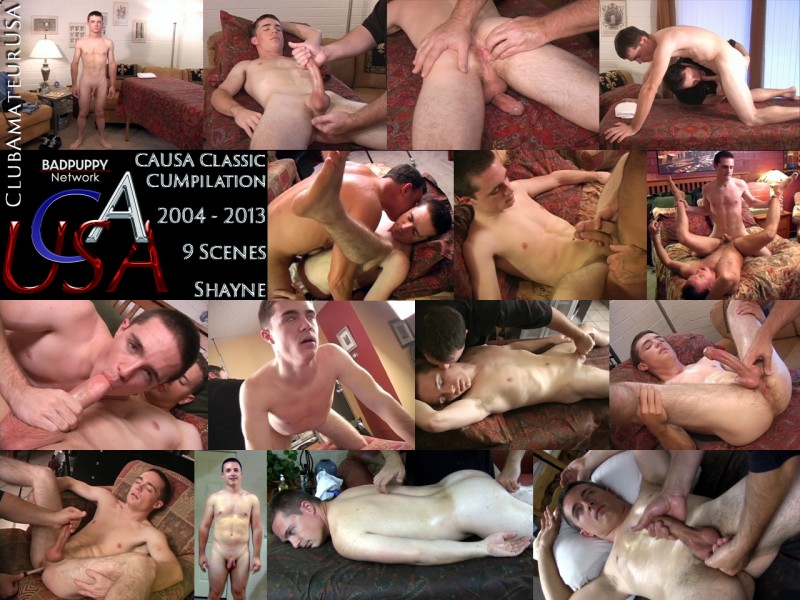 #clubamateurusa #causa #model4causa #caseyblack #rubntug #gaymassage #eroticmassage #sexploreyourcuriosity #gayamateurusa