CAUSA Classic CUMpilation Devin Carrera

Devin recently re-appeared on AFF — the site on which we originally communicated way back in the Fall of 2006. And although he's not returned either one of my DMs, I'm hopeful that I can convince him to return to the CAUSA massage table. As a result, I decided to go ahead & publish his Classic CUMpilation.
CAUSA 195
WOW! Devin is one hot, hung, and hella sexy young man! The pictures that he sent me when he first contacted me did not do him justice. So, when he arrived at my door a couple of Saturdays back, I was definitely eager to capture him on video.
By his own admission, Devin is curious to explore his sexuality (basically the full-meal-deal of sexploration), so I'm looking forward to working with him regularly.
This rub & tug shoot is different than most of my previous work due to Devin's heightened & sustained state of arousal. About 11 minutes into the shoot, he was on the verge of ejaculating and pretty much stayed that way for the remainder of the shoot. Of course, that makes my job much more of a challenge as I try to stimulate & manipulate Devin into intense moments of sexual pleasure – without taking him past the point of no return.
So, you'll notice that this video is much more slow & sensual in tone and the focus is on all of Devin since it didn't take too much tugging to take him over the top.
CAUSA 231
He's BAAAAAAAAAaaaaaaaaack… After Devin's first shoot back in February, I contacted him a month or so later and never heard back from him. I figured then that I would only get one video from this über hottie.
So, when I noticed a familiar face back on my favorite sex & swingers site, I couldn't drop an email to him fast enough! 😛
Luckily, Devin was happy to hear from me and eager to participate in a second shoot, so I wasted no time brining him in.
Thank gawd!
WOW! What a video!
If you recall Devin's first video, he was on the verge of orgasm throughout, and this one was no different — except for I finally got to add rimming, licking, and sucking to the rubbing and tugging that we'd done before. And Devin was in seventh heaven!
I didn't notice until I was reviewing the over 23,000 images captured directly from the video, that there were three phases to Devin's orgasm. Firstly, he had the standard 7-8 spurt ejaculation within several seconds of the start of the orgasm. Since he was still into it, I kept stroking, and that extended his orgasm to another ejaculation, and then a final ejaculation several seconds after that.
Given Devin's response, I think it was the best 48 seconds of his life. 😛
CAUSA 238
Devin was due to be out of state for several months, so I decided to bring him back in for another shoot before he headed out. With each shoot, I push his boundaries a little farther, and Devin allows himself to sexplore a little more…
Although he'd never experimented with penetration, after Devin's second shoot, I asked him if he'd be willing to go there, and he was… uhm… open to the idea.
So, for his third shoot, that's where Devin & I ventured, and… well… needless-to-say, Devin's wife is most likely receiving a strap-on for Christmas. 😛
CAUSA 244
Luckily for us, Devin's departure from the Valley of the Sun was postponed for a year. So, as soon as I found out and knowing that he's been curious to further explore his curiosities, I began planning his progression on video for the next several months.
The first shoot I knew that I wanted to happen is this one with Ken Mack since Devin's been wanting to suck some dick.
WOW! This video turned out to be be much more than I anticipated. Although nervous, Devin jumped right into his exploration. When the kissing began, I knew that this was going to be not only a smokin' video but a sensual one, as well!
CAUSA 259
This week's video has several "firsts." It's the first time that Devin Carrera has taken another man's cock up his arse. It's the first time that Tyler Aston has fucked another guy. And it's the first time that Ken Mack has been fucked by two different guys on video. And let me tell ya… All of it is DAYUM HOT!
Out of three hours and eight minutes of total content, I was able to edit this video down to an hour and two minutes. It's a feature-length video unto itself. And as I was saying to Ken Mack, I think that adult videos should tell a story just as mainstream movies tell a story. And quite frankly, sites that offer you a 7 – 15 minute video aren't telling you the full story of a video that took one, two, three hours to shoot.
Additionally, as Ken Mack and I were discussing, for us both, this was the easiest, most comfortable shoot that both of us have either participated in or filmed. The guys were relaxed, comfortable, and just having fun!
And dear ol' Devin had perma-boner that perpetually pointed north!
Finally, given that it was poolside threeway being shot from two different camera angles, I solicited a friend of mine to be assistant videographer. He, of course, was thrilled to help out on his first porn shoot and has been telling his friends & co-workers all week what he got to do last Sunday. And gladly, he did a great job with his camerawork considering that it was also his first time.
Overall, this is one helluva threeway with Devin Carrera riding Ken Mack's cock, and both Devin & Tyler Aston fuck the begeezus out of Ken. There's also a lot of sucking & rimming. And did I mention all of the lip-locking going on?
CAUSA 273
I'm on my summer sabbatical in much cooler Southwest Colorado, so I'll make this quick & dirty.
Over the past several months, I received several email requesting a toy video with Devin Carrera. Folks wanted to see him move beyond the silver bullet vibrator. So, in today's video we do just that.
While Devin is still a bit to tight & a bit uncomfortable with the "ManRammer," he was able to graduate to the thicker, textured vibrator, and to hear him tell it, thought that it felt damned good.
So, I gave Devin more homework, and he's now to practice at home playing with thicker toys. That was another assignment that Devin was happy to accept! Enjoy his latest round!
Due to the Great Recession & the sell of CAUSA to BP in December 2008, this ended Devin's run on ClubAmateurUSA. Today, at 33, he looks like a more mature version of his teenage self. Fingers crossed that Devin chooses to return.
Enjoy!
CB ~ Casey Black ~ Messing. With. TexAZ. ©
Originally published: Saturday, May 7, 2022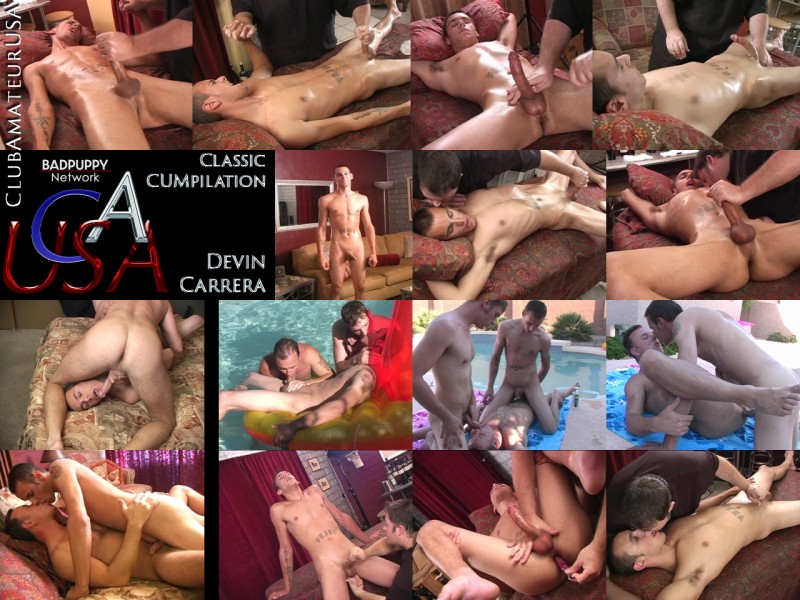 #clubamateurusa #causa #model4causa #caseyblack #rubntug #gaymassage #eroticmassage #sexploreyourcuriosity #gayamateurusa