CAUSA Classic CUMpilation Kole

And here he is… the most requested / inquired about CAUSA guy in ClubAmateurUSA's 18-year history, Kole!
I still remember the first time that Kole appeared at my door for our first meeting & shoot. Since the living room was already setup to film, I had the vertical blinds closed. Kole knocked on my front Arcadia door, and when I pulled the blinds partially open & saw him standing there, my heart skipped a beat, my breathing grew labored, & my pupils dilated because standing before me was one of the most beautiful men whom I'd ever seen. As I said then, the preliminary images that Kole shared with me prior to our meeting, in no way did him justice.
So, Mr. Riley, per your request (15-year membership has its privileges), today, I'm thrilled to present CAUSA Classic CUMpilation Kole!
Here are the storyboards that accompanied Kole's five videos:
CAUSA 118 – September 2005 – A Rub & A Tug
WOW! Kole is one hunk of a man! When he responded to me on my favorite sex & swingers site, I had no idea how beefed up he was since I would only later find out that his digital images were a couple of years old. So, when he appeared at my home, I'm sure you can imagine how pleasantly surprised I was. 😛
Kole was a little nervous when he arrived and in short order asked for a glass of wine. lol
We drank some wine, filled out the paperwork, and Kole relaxed a little bit. Once the shoot began, he got right into the sexperience.
Kole is curious to further explore sexual interaction with another man, and given his response to my fingers penetrating him, I'm definitely interested in pairing him with another beefy guy and see where it goes.
CAUSA 123 – October 2005 – Round Two
As Kole lay on the CAUSA massage table I looked down at him and asked, "What are you smiling at?"
To which Kole replied, "Heaven… Who wouldn't be?"
Lions and tigers and bears, OH MY!
There's a lot more to Kole than just his flawless body. Behind his piercing blue eyes and enveloping smile, there's a beautiful gentleness to his spirit and a cherubic innocence in his laughter. Being around him is like indulging in comfort food & fine wine. You feel all warm & fuzzy inside.
Of course, when Kole slips off his clothes, your animal instincts take over, and all you want to do is devour him. And devour him I did because this is one rockin' video!
Yet, I digress… But… Isn't that what I'm s'posed to do? 😛
I have received more comments about Kole than any other guy who has appeared on CAUSA in the last two years. So, he and I have had several conversations regarding his "career path" at ClubAmateurUSA.com, and we've mapped out his male:male sexperiences that he's…uhm…er…"up" for. Needless to say, Kole is a keeper on many levels, and I'm looking forward to shooting him with some other CAUSA hotties as he continues to explore his curiosities.
For now, Kole's round two will definitely satiate everyone's desire to see more of him. So, watch Kole's latest video and see why he had me at, "Heaven." 😉
CAUSA 133 – November 2005 – Live Archive
This week's video update serves a two-fold purpose. Firstly, the demand for more Kole has surpassed any other model who has appeared on CAUSA. And unfortunately, Kole has been out of town tending to a family emergency. But not to fear, he & I are in contact and are hoping to schedule a shoot with him and … right after Thanksgiving. 😛
This live broadcast video of Kole was actually his second shoot, and in it, I broke my own rule. You see… The models' "first rule of Fight Club," is that they can't cum until I tell 'em to cum, and my "first rule of Fight Club," is that I can never show on a live broadcast what hasn't been seen previously in a video on CAUSA. That way, the CAUSA membership has first priority seeing the models' sexploration.
Well, on this particular night, the audience was in a dither for Kole. They wanted to see him do everything *and* the kitchen sink. lol…
Given how HOT Kole is and how inviting he was to more sexual interaction (trying to undress me and play with me during the show), I kinda broke my own rule. Hell, not even kinda… HA!
Kole is an absolute natural in front of the camera, and he definitely knows how to "sashay, Shante'" in front of said camera. As a result, this is one smoking video that is a buffet of sexual exploration… Rimming, sucking, nipple play, toys… Just about everything short of the kitchen sink. 😉
So, sit back and prepare to melt into a puddle of lustful goo because this is 40 minutes of one of the hottest AND nicest men on the planet. I think we'd all like to have two of Kole on a cracker.
CAUSA 143 – January 2006 – Kole & Hayden
You know when you've been wanting to do something all of your life and when you're finally in the moment of doing it, the feelings behind the activity can be overwhelming and your actual participation in the activity can be frenetic and kinetic… Kind of like my first time at Disneyland at 16 years of age, I felt like I was five years old again and didn't know which ride to start with — I wanted to ride everything all at once. LOL!
Well, that's pretty much what happened during the first ten minutes of this video shoot with Kole and Hayden. The intensity between the two of them was palpable, and they wanted to be doing everything all at once. So, I was running around the bed with my digital camcorder, like a mad man. HA!
Finally, at ten minutes into it, I called a break for all of us. We had a little downtime, took a little breath, and re-approached in a little more orderly fashion.
I have to say that what happened wasn't what I expected to happen. But given that this was something that, evidently, they both had been anticipating, this video runs the gamut, and I must say, is one of the hottest that I've shot in my almost-four-years as a smut peddler. Needless-to-say, I was soaked from leaking like a sieve throughout the shoot, and Kole & Hayden were soaked in cum. All in all, it was a dayum good two hours!
CAUSA 153 – March 2006 – Boys & Their Toys
Kole and I have found our groove working together, and this video is quite demonstrative of that fact. We laughed, drank some dayum good wine, had lots of fun, played with a much larger vibrator & dildo, and of course, I tortured him to phenomenal orgasm (which Kole says is "cruel and unusual). LOL!
I'm going to make this short & sweet as this weekend is the adult webmaster's conference in my neck of the woods, The Phoenix Forum. So, enjoy my latest adventure with CAUSA's exclusive hottie, Kole!
Ours (the ClubAmateurUSA members & me) was a whirlwind sixth-month love affair with CAUSA's Kole…
Enjoy!
CB ~ Casey Black ~ Messing. With. TexAZ. ©
Originally published: Saturday, March 9, 2002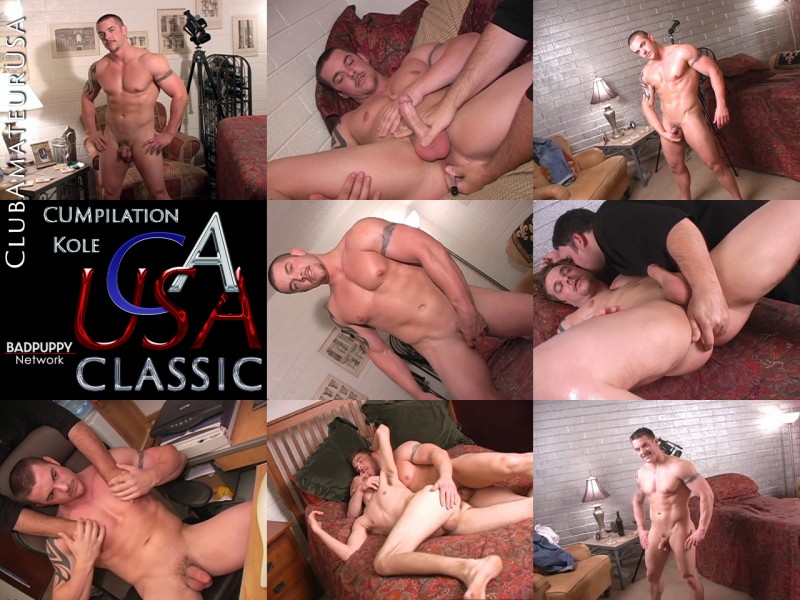 #clubamateurusa #causa #model4causa #caseyblack #rubntug #gaymassage #eroticmassage #sexploreyourcuriosity #gayamateurusa