CAUSA Classic CUMpilation Morgan

Next in the CAUSA Classic CUMpilation series, I decided to jump forward to 2008 when 19-year-old, active-duty Air Force Morgan slid onto the ClubAmateurUSA massage table.
Here are the three storyboards:
CAUSA 241 – January 2008
The shy, quiet, & stoic guys always have a tell, and sure enough, Morgan's tell was the fact that he was on the verge of ejaculating throughout this shoot.
Now, most of you are aware, I've become adDICKted to Hot Chocolate and just luuuuuv chasing the chocolate cock (as Darius so eloquently stated it). Given that I could barely rub, tug, and suck Morgan before he was ready to blow, I didn't really get to satiate my needs & desires. 😛
I drew out the shoot (and Morgan's) as long as I could, but alas he hit the point of no return, and it all came to a messy end. As you'll soon see, I slowly & begrudgingly let him up from the CAUSA massage table. lol…
CAUSA 256 – April 2008
So, in choosing Morgan's second shoot to run as a Classic this weekend, a couple of factors came to mind. Firstly, given this impromptu Hot Chocolate Summer (#causaboysofsummer2019), I wanted to continue with the flava, and secondly, the storyboard for this particular video remains relevant 11 years later:
I took a little different approach in both the filming & editing of this video since I think that it can be a good study in the analyzing of self-identifying straight men who choose to explore their natural, sexual curiosities.
Typically, during filming when I notice the guy on the table staring off into the distance, I'll direct him to close his eyes and focus inward. For this shoot, upon noticing Morgan staying present during filming (versus closing his eyes and focusing on his inner eroticism), I made a conscious choice to film it as such.
What you'll now see is a straight man's conflict between his chosen and involuntary sexuality — the constant struggle to stay disconnected from what he, sexually & physically, is thoroughly enjoying. As you'll see with Morgan, he's not yet figured out how to marry the two since his raging erection, reserved moans, and staying on the edge of orgasm definitely defy his conscious choice to distance himself from the sexual activity.
Ironically, I received an email from a site member (August 2019: Mr. Riley, was this you?) earlier in the week relating just that behavior. Before the action begins, you'll hear my direction to Morgan in which I'll reference this email:
I just wanted to say that you have been really hitting out of the park lately with your updates! I especially like the engaging of more black guys; there seems to be more of a challenge when it comes to sexual pleasure in the black (I should know, I live and breathe it every day) and Latino communities, so it is particularly interesting to watch them on your table. You can almost see them trying to hold on to the ideal of masculinity when their bodies are obviously enjoying the experience. The last update with Nate was a pleasant surprise. I always thought the buildup in his video was the best part, and you just confirmed that with the "flashback" video portion of the latest video. I think that was a solid piece of editing! I don't know what kind of reaction you get with the diversity that you show (perhaps one of the most diverse in the genre) or if it adversely affects your revenue (after all it is porn and not a Congressional affirmative action mandate), but keep up the great model mix.
I do find it interesting that it is much more pronounced behavior in the Hispanic American, African American, and Arabic American models than is true of my Caucasian American models. So, what are your observations in that regard? What are your experiences with non-white straight guys on the down low?
Regarding Morgan, after I gave him the go-ahead to ejaculate, you can see in his face that he finally relaxes and enjoys those final moments. Again, he has one of the best orgasms of his life that leaves him with a satisfied smirk on his face. Oh, and pay attention to one other thing… Notice how Morgan's cock gets rock hard & throbs when our sexual interaction is much more intimate & sensual (me chewing on his ear and caressing his face & head). Definitely another tell on Morgan's part…
A couple of new observations of this video, now in 2019, are 1) while Morgan was active duty at the time, he was young & conservative, so my perception is that he was primarily sexperienced in straight, hetero pussy pounding, and 2) there are two moments that I note today from when I was nibbling on his nipple wherein his eyes became as big as saucers, and my perception today, is that's the moment that Morgan discovered that his nipples are directly hardwired to his BBC. After the second instance, Morgan flagged me off because he was on the edge of ejaculation.
At 31 years of age, today, I would love to know where his journey led him after Morgan's three visits to the CAUSA massage table…
CAUSA 267 – July 2008
When Morgan appeared on CAUSA, he was active duty military stationed in the Valley. Today, he's 29 and now lives on the East Coast. This was Morgan's last shoot, and here's what I had to say in July 2008:
Morgan's back for more, and as I'm sure most of you know, I think this 20 year old, military boy is some dayum-good Hot Chocolate! When he emailed me this week to say that he'd like to do another video, I knew that I needed to get him to go further in his sexploration. I first tried for actual penetration with the slimline silver bullet vibrator, but Morgan shot back that he wasn't ready for penetration. So, I figured that I could make this video just as erotic & sensual without actually sticking the vibe IN his hole.
I was so-o-o-o-o right!
Even though I do have a full grasp on reality and know that Morgan continues to shoot vids because he likes the extra income, I do also believe that somewhere in the dark recesses of his mind despite his "I'm straight" protestations, he likes having his body & cock worshipped by another guy. If that weren't the case, then Morgan would not have been on the edge of orgasm over and over and over again throughout all three shoots — with this shoot being no exception.
Thankfully, repeated reminders to relax & enjoy himself finally got through to him, and Morgan looked a lot less like a deer in headlights during this shoot. Though I could see that he was a little apprehensive when I had him on his back and brought his knees up to his chest to expose his virgin mangina.
And let's just say that as with his cock, Morgan's protestations about being straight & not into this or that, the same was true of his manhole. From his first time being rimmed (and let me just tell you that made my year) to his first time having a sex toy pressed up against his back door, Morgan's involuntary responses told a whole other story!
When my face wasn't buried in his ass and the silver vibe was working its magic, I could see Morgan's closed eyelids fluttering like a hummingbird's wings, and as soon as the toes on his feet curled tighter than a pair of Spanx on Oprah's thighs, I knew that dear ol' Morgan had found his 7th Heaven! LOL! (Note in May 2017: this must be one of my now-favorite sentences! lol) (Note in March 2022: it's still one of my favorite sentences. 😋)
That's when I decided that was the position I wanted him to be in during orgasm because I knew that it'd be one of the best cumshots on video and for Morgan's pleasure. Both were true, and of course, his response when asked about it, "it was different."
Uh…huh… Different, I'm sure, as in, "I'm going right out and finding some nasty chick to hook up with who'll eat my ass and ram me with her strap-on. All. Night. Long."
Then again, maybe that's just my fantasy for Morgan. 😛
We'll find out the next time he's ready to do another video and Morgan wants to the slimline silver vibrator IN him and not just ON him.
Of course, by October 2008, the global economy was in the toilet, and my biz partners & I were negotiating Badpuppy's ClubAmateurUSA acquisition. And at 34, today, I would still love to know whatever became of some of my favorite CAUSA Hot Chocolate, Morgan.
Enjoy!
CB ~ Casey Black ~ Messing. With. TexAZ. ©
Originally published: Saturday, March 19, 2022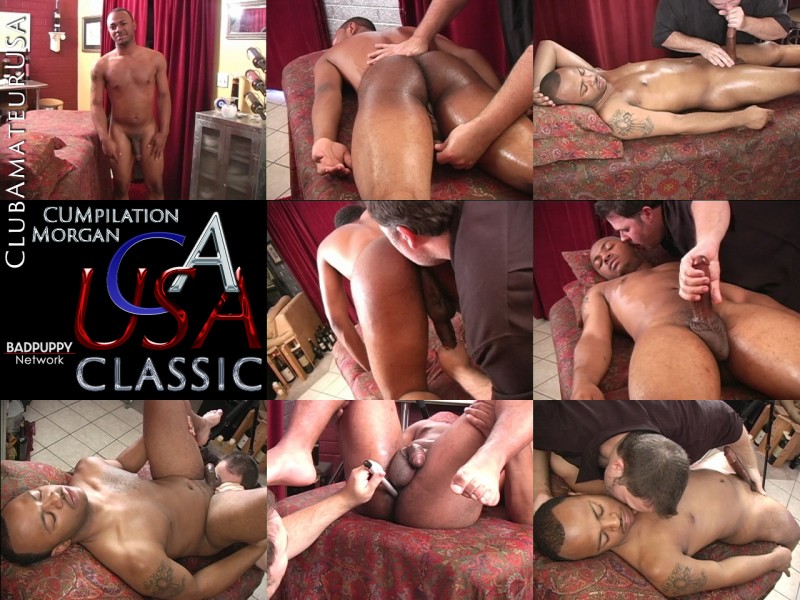 #clubamateurusa #causa #model4causa #caseyblack #rubntug #gaymassage #eroticmassage #sexploreyourcuriosity #gayamateurusa