Classic CAUSA 003 Stephen

And now, it's time for the rest of the story…
So, firstly, as soon as I began working with this week's Classic update, I, immediately, recalled why I named him Stephen. He reminded me of Al Corley who played Steven Carrington on "Dynasty" (or "Die Nasty" as we used to say back in the day).
But let's get to the good stuff…
Stephen was an original CAUSA recruit from AdultFriendFinder. A married, stay-at-home dad to two toddlers, Stephen was, also, LDS & on the DL. Lions & tigers & bears, OH MY!
And if my memory serves, within several months of this shoot, Stephen messaged me on AFF to say that he'd gotten together with another married couple, and there was some guy-on-guy action between the husband & Stephen.
Backtracking to my initial interaction with Stephen on AFF, he wasn't able to travel into Old Town Scottsdale from Mormonville due to his daddy duties. So, one afternoon, I treked out to his home for our initial model interview while his kids were having their afternoon nap. Over the past 18 years, that was pro'ly one of the most nerve-wracking & awkward preliminary interviews I've experienced. What if the kids woke up? What if the wife came home early from work?
Now, with cameras on smartphones, I'm certainly glad that those days of having to meet a potential model in person, are far behind me. lol
Today, Stephen is 48, and based on a Google search, is still living in the Valley. Another thing I realized while processing this content set, Stephen's son (and any guys from 2003 who had children that year), their sons are now old enough to model for CAUSA.
Dear gawd… I feel like I need a Silkwood Shower. LOL
Anyhoo… Here's what I had to say about Stephen & this shoot back when the site launched on October 2, 2003:
Once again, our favorite swingers site gave us another blonde-haired, blue-eyed cutiepatootie…
Stephen is 30 and has a bit of bi-curiosity. He's interested in performing in a MMF video, but more so as the servicee vs. the servicer. Of course, we really don't think we'll have any problems finding a servicer for Stephen. 😛
This one took forever to get filmed. After several weeks of scheduling and rescheduling, we finally were able to make it happen. In preparation, CB usually touches base with a model a couple of days before a shoot — just to check in, confirm, make sure that the model is feeling comfortable, etc. Well, when he checked in with Stephen and was asked what he'd been shooting, CB informed Stephen about this newly-purchased, little, slimline vibrator… Well… enough said!
Enjoy!
CB ~ Casey Black ~ Messing. With. TexAZ. ©
Originally published: Saturday, November 6, 2021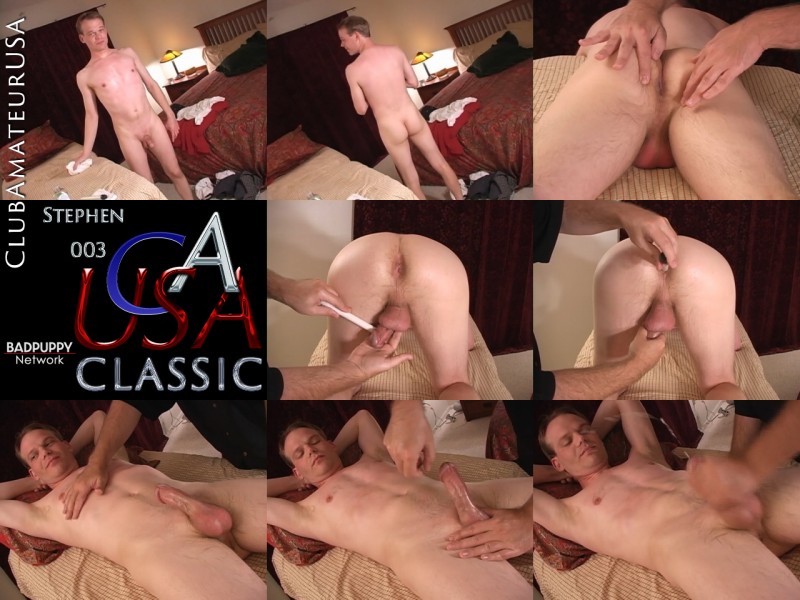 #clubamateurusa #causa #model4causa #caseyblack #rubntug #gaymassage #eroticmassage #sexploreyourcuriosity #gayamateurusa