CAUSA 697 Rainer | Complete Scene

"OGM, BRAH! I was SOOOO drunk, LAST NIGHT!" And thus, the Fraternity Guy Mating Call
My shoots with Rainer feel like the whole, "It was great; it felt really good; but we can never talk about it, again." (And BTW, you can blame author Jay Bell, and his "Something Like…" series of novels for this particular storyboard being an epic.)
In the moment, Rainer is all into it. Before & after? No eye contact. "Yes." & "No," answers. But, also, via text, Rainer is one of the most proactive & expressive models with whom I've engaged in 17+ years. And it's in terms of what he wants our shoots to be, include, & to make him feel.
Whoaaaa…
I think much of this interest in Rainer is due to A. I was him, B. I knew him. C. I loved him. D. All of the above.
That was life growing up a gay, closeted, Southern Baptist, "perfect" boy in the Petroplex of West Texas.
Rainer: Curious, closeted, scary religious conservative, "currently rebelling" man from a rural, Midwest state.
And thus… My affinity for… My fascination with… Rainer…
Attitude. Look. Energy.
But… I digress…
So, surprisingly, the following week after Rainer's first shoot, I received an email from him saying that he was ready for his second shoot whenever I was.
Knowing that Rainer set very strict limitations on my sexual interaction with him during our first shoot, I wasn't, exactly, inspired to pursue a second shoot with him. But since I'd planted the proverbial seed (opposite pun intended?), I decided to follow up with Rainer & explain to him what I meant by "…you'll have to expand your boundaries for a second shoot, but we can talk about that closer to the time," at the end of filming as Rainer was readying to leave. At that time, my reply:
Now, in terms of a potential second shoot in August, as I briefly mentioned at the end of your first shoot, in order for me to continue filming with you, you're going to have to expand your sexual boundaries. Your bans on nipple play & direct prostate stimulation greatly limit what can be done with you on the massage table that's more than your first shoot.
With such strict limitations on a go-forward basis, very rarely do I schedule subsequent shoots because the video is monotonous & mundane. It's a str8 guy's continuing sexploration & boundary expanding that engages the subscribing audience & potential subscribers.
Think of it like watching a season of your favorite television or movie series. With each subsequent episode or film, the storyline moves forward to the ultimate season or series finale. Otherwise, it's like watching Groundhog Day over & over again. lol
Again, Rainer surprised me with his response:
Thanks for responding I completely understand. I'm willing to receive a rim job and let you touch my nipples just not too much with the nipples. I love rimjobs and if you have a very small vibrator you may also use that and penetrate with a very small vibrator only nothing else. That includes no fingers please. Other than that I explained everything else. If you'd like to shoot again let me know.
This week, since we were again in contact to possibly schedule his second shoot, two days prior to the scheduled start time, Rainer & I held a three-hour SMS therapy session. I told my Badpuppy Team that I should start charging *him* by the hour. LOL
And now, obviously, Rainer's second shoot did happen. And I did get to play with his nipples. And I did get to use the Magic Wand on Rainer's prostate until his rock-hard, big, thick, cut cock began leaking live a sieve on the CAUSA massage table. And that's all before I flipped him over…
Enjoy!
CB ~ Casey Black ~ Messing. With. TexAZ. ©
Originally published: Saturday, August 15, 2020 (80 days 'til the November election – vote.org)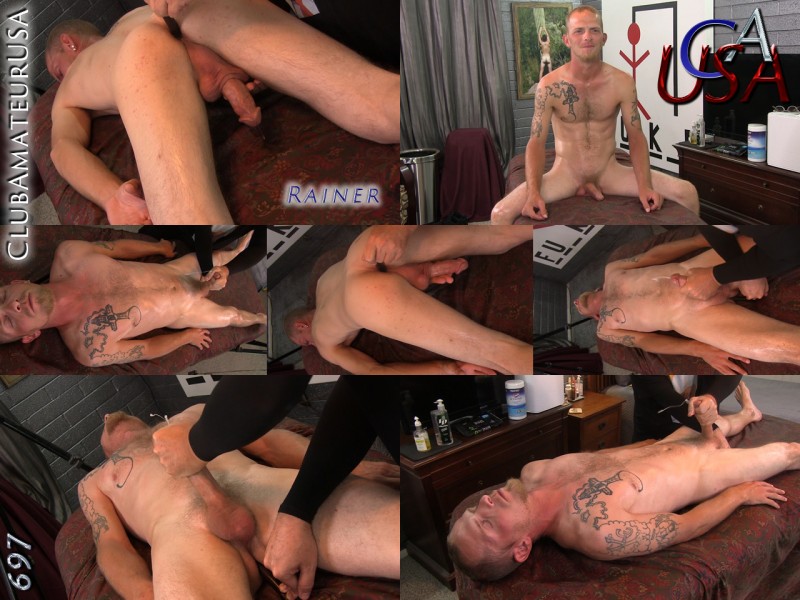 #clubamateurusa #causa #model4causa #caseyblack #rubntug #gaymassage #eroticmassage #sexploreyourcuriosity