Classic CAUSA 094 Aaron

Earlier in the week when I started searching for which Classic to run, I was a bit surprised to learn that I'd not yet run Aaron as a Classic since it's still one of my favorite CAUSA videos. Aaron came into town for Spring Break to hang with Jaxon, Hydro, & Kyle, and less than 48 hours later, he was sliding onto the massage table.
Today, Aaron's 41, single, & still just as handsome. Beyond that, I know no current 411 on him. So, here's what I said about this shoot back in March 2005:
This is now one of my favorite video shoots. Not because the model was over the top in his sexual expression, but because this is as natural, unrehearsed, and real as it gets folks.
You see… As I stated in the video storyboard for last week's update, Aaron had no idea that he'd be participating in adult, amateur video when he agreed to meet Jaxon, Hydro, & Kyle in Scottsdale mid-week during their Spring Break. He was coming out here to spend some time with his buds and meet up a female friend of his that lives here.
Aaron was well aware before he got here that his three buds were here to party, get laid, and make some adult, amateur videos for a "gay" site. Pretty much everyone in Jaxon's circle back in KCMO knows about his porn past & present. So, Aaron had been one of the ones to give Jaxon shit for his participation.
Well, the minute Aaron walked in my front door, I knew that I wanted to capture him on video. And I knew that if I played my cards right, I'd have Aaron on my massage table by weekend's end. Hehehe…
So, I let the boys do all of the talking in the 24 hours leading up to the circle-jerk webcam show. Of course, having worked for one of the best PR agencies in the world, I knew exactly how to "schpinn" my words when counseling Aaron about him not appearing on cam without a signed model release. My choice of words lead him down the proverbial primrose path to his participation… LOL
I also hypothesized in my head that once Aaron participated in the circle-jerk, he'd be much more open to "A Rub & A Tug." And of course, I was correct.
After Aaron & Hydro came during the circle-jerk, I sent them outside to smoke a cigarette while Kyle & Jaxon continued the show. Once Jaxon ejaculated and was back chatting, I joined Aaron & Hydro on the patio and proposed the erotic massage video to Aaron. "I would like to capture you on video again in an erotic massage, and Hydro can tell you all about it." I made my exit and allowed Hydro to sell the erotic massage video to Aaron.
Now, as Aaron & I were about to begin this shoot, he said, "I get to watch porn while we're doing this, don't I?" I also realize that straight guys would very much prefer the excuse that it was the porn that got them hard during an erotic massage (or whatever else may be happening on cam), but we all know better.
A cock has no conscience. It doesn't care who or what is giving it pleasure as long as someone or something is. Given that awareness, I would much rather capture a guy on video without his face glued to the television with pussy porn screaming in the background.
So, I explained to Aaron as I have explained to others, that I would prefer to try it without and then roll out the TV & VCR if things weren't working out. Of course, out of 90+ videos with over 75 guys, it's only been the gay guys who have required porn to get them off (things that make you go, hhhhmmmm…).
Aaron was definitely in disbelief at what he was doing as you'll see him chuckle in that regard when the cameras start rolling. And he was a little nervous once the massage began, too. The circle-jerk was the first time that Aaron had had any sexual activity with another male present, so having another guy give him an erotic massage was definitely a first-time sexperience for him, as well.
Watch closely… You'll see Aaron's metamorphosis from a str8 guy who isn't quite sure of what he's doing to a sexual being who steps outside society's parameters for allowable heterosexual activities and embraces the sexual pleasure that he's receiving (regardless of who is giving).
By the end, you'll hear, "do that thing you did…" "Harder, I'm ready to cum." "<grunt> I want to cum."
And that is why I enjoy giving first-time sexperiences to guys who self-identify as straight. One by one, I can show them (we all can show them) that being open-minded to all types of sexual interaction is about pleasure. It's not about government nor God. It's simply about pleasure. And that is also why Aaron's "A Rub & A Tug" is my new favorite video.
Enjoy!
CB ~ Casey Black ~ Messing. With. TexAZ. ©
Originally published: Saturday, May 16, 2020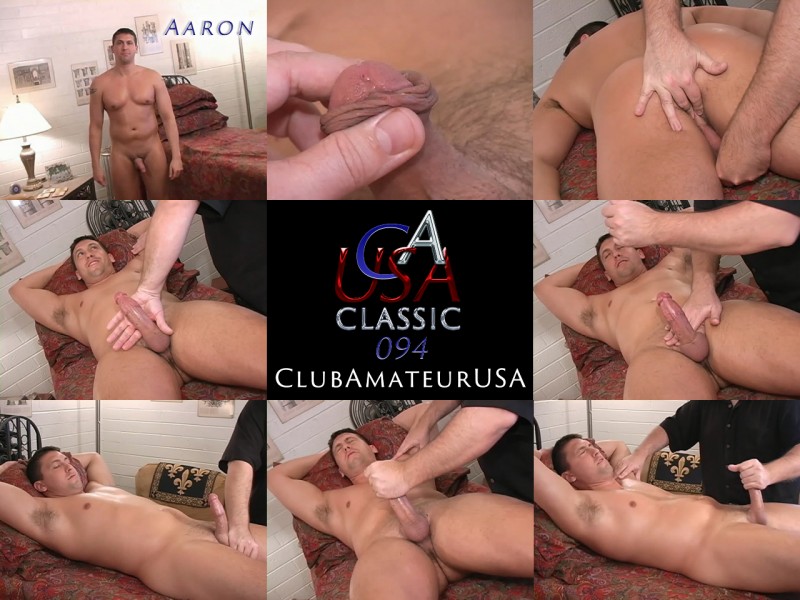 #clubamateurusa #causa #model4causa #caseyblack #rubntug #gaymassage #eroticmassage #sexploreyourcuriosity