Update on Updates
DECEMBER 24 UPDATE: Santa Cums Early with Elias!
DECEMBER 10 UPDATE: Physical therapy has begun & yesterday (Monday, Dec. 9), I was able to successfully go down & up the stairs in regular shoes with the aid of the quad cane — after being in this frickin' apartment for TEN looooooooooong weeks. CALGON!
If PT continues to progress this quickly, then fingers are crossed that next week, I'll be able to, only aided by the quad cane (not a walker), more easily traverse the tripods & massage table. The least sexy thing in the world is to have some old guy with a walker wanting to give a Gracen or a Rolf or a Elias or a Corey or whomever an erotic massage. LMAO!
Please continue to send your positive energy my way, and again, thank you all for your care, concern, & well wishes for me and loyalty to & support of ClubAmateurUSA!
Happy holidays!
Casey
NOVEMBER 21 UPDATE: Tomorrow the 22nd will be two months since life changed in a split second, and today was the first day that it wasn't too painful to bear full weight (with a walker). Hoping that by next week I will have weened myself to the quad cane & can navigate around the massage table & the tripods. I have no less than six guys who've been waiting in the proverbial wings since September.
Dear gawd, I'm soooooooooo ready to get back to my regularly scheduled life & your regularly scheduled programming!
Thank you all for your care, concern, & patience throughout this challenging time!
All my best,
Casey
——
OCTOBER 18 UPDATE: Good news to report in terms of getting back to filming. I met with my orthopedic trauma surgeon, yesterday (Thursday), and he scheduled me for a follow-up on November 7 & thinks at that time, I'll again be walking. So, hopefully, that means I can get back to filming the following week!
——
Well, it's certainly been an eventful few days.
Sunday afternoon, I was working on the second half of the Finch video when my Frenchie gave indication that he needed to go potty, and I've established two processes by which we go. The first, I leash him, and we go for a 15 – 20 minute walk. But when I'm working, the second process involves me carrying him downstairs to pee in the grass in the courtyard. He finishes up, follows me back up the stairs, & I get back to work in a couple of minutes.
The best laid plans, right?
On Sunday, I grabbed him up, started down the stairs, and I misjudged the step before the middle landing. As a result, my right foot continued on down the additional eight inches to the middle landing. Clutching onto my Frenchie to protect him & unable to grab the handrail, I went down on my left shin just below the knee (thank God it wasn't on the knee). Unfortunately, with my left calf bent behind me, my left foot came down on the second step above the middle landing, about 16 inches higher than my knee. That hyperextended my foot backward & snapped both the right & left bones that attach the foot to the ankle. As my orthopedic trauma surgeon said before going into surgery, "Your foot was dangling in the sack."
I heard the snaps, rolled over, & saw my foot sort of bouncing at the end of my left leg. Yeah, it's not s'posed to be doing that.
Thankfully, my Frenchie was perfectly okay, but a little freaked out by what just happened & the fact that daddy was flat on his butt in the middle of the stairs.
Of course, I never take my phone with me when I go outside with the dog. That's our time, and I prefer not to have my head buried in my phone when we're out & about. As a result, I butt-scooted down the remaining steps to ground level, laid out in the middle of the corridor in my complex & began yelling for help. But it's Sunday Funday; nobody's home. Finally, about ten minutes later, one of my neighbors emerged from her apartment at the far end of the corridor, and I yelled loud enough to wake the dead.
Since she's a retired nurse, she swung into immediate action, and the rest, as they say, is history.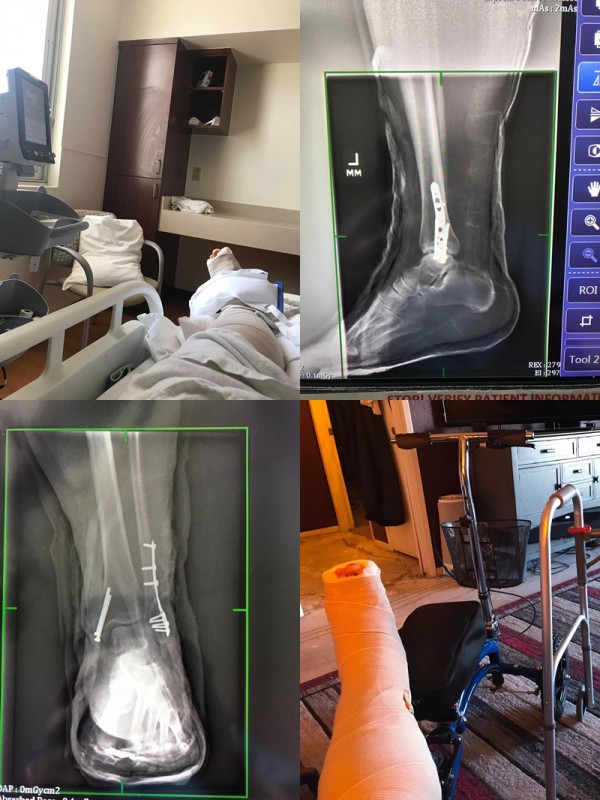 I am home, post surgery, and learning to navigate life on a knee scooter & crutches. My Frenchie will be spending the next couple of months back with his breeder who is the most awesomest person ever!
Oh, and I'm managing the pain via OxyCodone & a muscle relaxer. So, needless to say, I am in & out of consciousness & not moving too fast.
Updates are coming (Finch part two, CUMpilations, & 16th anniversary model), but for the time being, they'll not be on a set schedule. I'm going to work as much as possible, go rest my body, & then get back to updating.
So, please hang in there & bear with me over the next several weeks as I adjust to life on one leg & foot. I have six to eight weeks of a no-weight restriction on my left foot / ankle, and then I'll be in a boot for an undetermined length of time.
This weekend when I have more energy & feel stronger, I'm going to learn to walk on my new i-walk crutch that substitutes for my broken limb.
As always, thank you for your support of & loyalty to ClubAmateurUSA, and I greatly apologize for the delay in updates.
All my best,
Casey