Classic CAUSA 113 Billy

I interrupt our regularly scheduled scene with Loras to bring you a quick Classic with Billy due to, yet another, mass shooting in America.
This one happened to be in my hometown, Odessa — born & reared there until high school graduation and having lived there most recently from December 2008 (after the sale of CAUSA) to March 2013 (my return to ClubAmateurUSA & Badpuppy). So, I spent the bulk of my Saturday, yesterday, tracking down family & friends to make sure that they were safe, and also streaming Odessa's local CBS news in order to stay abreast of the latest information. Sadly, just a few weeks ago, I was checking in on friends in El Paso, making sure of their safety. This carnage must stop.
In the meantime, back to Billy.
Recently, I took a deep dive down a rabbit hole to determine what original content from 2003 to 2008 is still available to give the "Classic" treatment, and that's when I discovered this lone "Live Archive" of Billy that's still available for updating to the latest technology. Given that Billy's one of the most popular CAUSA models in its 16-year history, I've been excited to bring it to you as quickly as possible. Since a Classic only takes eight hours to prepare & push live (over a current model that takes about 16 hours from "cradle to grave"), this shoot with Billy seemed the natural choice to get you all an update, ASAP, during a holiday weekend (Labor Day, States-side).
So, here's what I had to say about Billy's "Live Archive" back in August 2005:
For weeks, I've been hearing from site members, "More Billy!" Unfortunately, he has gone off to university & is no longer residing in the Valley of the Sun. Going forward, my only opportunities to capture Billy on video will be when he's visiting friends & family here. |sigh|
So, to help satiate everyone's Billy cravings / needs / desires, I grabbed one of his recent live performances from the CAUSA vault & am bringing it to you today.
I love the first half of this video because you will get to see Billy as I do. His boyish charm is absolutely endearing and those bright blue eyes & that big, beautiful smile will envelope you. Of course, as you'll also see, Billy is a big ol' ham, and he loves to vogue for the camera. lol
Apparently, Billy was a little wound up the evening that we filmed this. It didn't take much to bring him to the edge of orgasm a couple of times, and then I finally let him a blow a huge load that he was more than ready for… "Oh wow… that felt so incredibly good… my feet are tingling."
I'm sure that this week's video update will help everyone to get their Billy Fix as it did me.
For those of you States-side, have a safe & enjoyable Labor Day. Hug your family & friends and tell 'em you love 'em.
And everyone enjoy one last Classic update with cutiepatootie, Billy!
CB ~ Casey Black ~ Messing. With. TexAZ. ©
Originally published: September 1, 2019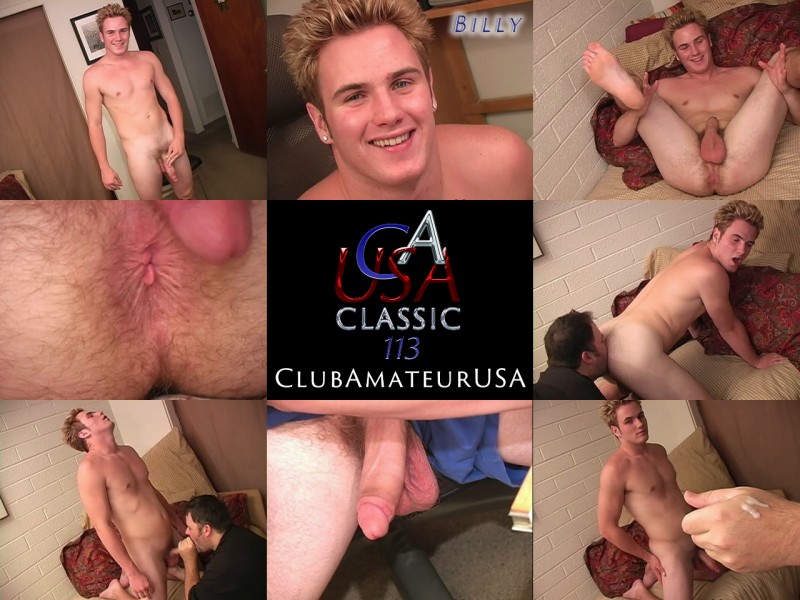 #clubamateurusa #causa #model4causa #caseyblack #rubntug #gaymassage #eroticmassage #sexploreyourcuriosity