Classic CAUSA 024 Oliver

Well, the Universe certainly challenged me this week. Returning "Plan A" model got called out of town for work, and new "Plan B" model was also out of town for work. Currently, I have five hotties who've indicated interest in participating, but they're not quite there yet to commit & schedule.
So, I decided to reach way back into the CAUSA archives — all the way back 14 years ago to October 2003 & CAUSA's first Asian model, Oliver, who originally came in to shoot a MMF threesome with Boris & Natasha. Valerie & I were in the middle of that shoot when Natasha pulled Val aside & shared that she had a health concern "down there." We ended the shoot, and Oliver decided to go ahead & hop on the massage table. Unbeknownst to the membership way back then, Oliver was the first active duty service member to appear.
I didn't realize 14 years ago that Oliver & the few other men of color would put me on the path to representational diversity on ClubAmateurUSA.
As I wrap up our 14th anniversary month, it's a little whelming to think back on this journey. From one Canon GL2 camcorder when we began to the four high definition Canons, today. From the original concept / genre of bisexual male-male-female videos to the evolution into erotic massage & straight men discovering the joys of their respective prostate & taking steps toward living their authentic sexuality.
This week, I tracked Oliver down online, and he's now a 45 year old civilian, and other than a little grey around the temples, he looks much the same. Here's what I had to say 14 years ago…
Oliver is yet another whom we met at our local swingers' web site. When he first contacted us, we were thrilled because it is not often that an Asian-American man comes knocking on the ol' porn door. Well, we opened it and told him to come right on in and make himself at home!
Married, he and his wife are into playing with other couples. Oliver has a bit of bi-curiosity and is interested in participating in one of our MMF videos. Of course, I think we can oblige him on that one. 😛
Oliver is a really nice guy and a bit soft spoken. With his youthful face and body, yummy uncut schlong, and cute little butt, we're sure that you are going to thoroughly enjoy his rub and a tug. Look for Oliver again real soon…
Enjoy!
CB ~ Casey Black ~ Messing. With. TexAZ. ©
P.S. Plan B did make it in for a shoot this afternoon (Sunday), and it turned out to be a video for the record books. I'll be running it this week. As to this video with Oliver, when dealing with 14 year old mini-DV tapes, one can run into technical issues. The video is just fine, but you will notice an audible chirping. I apologize in advance if you find it too distracting.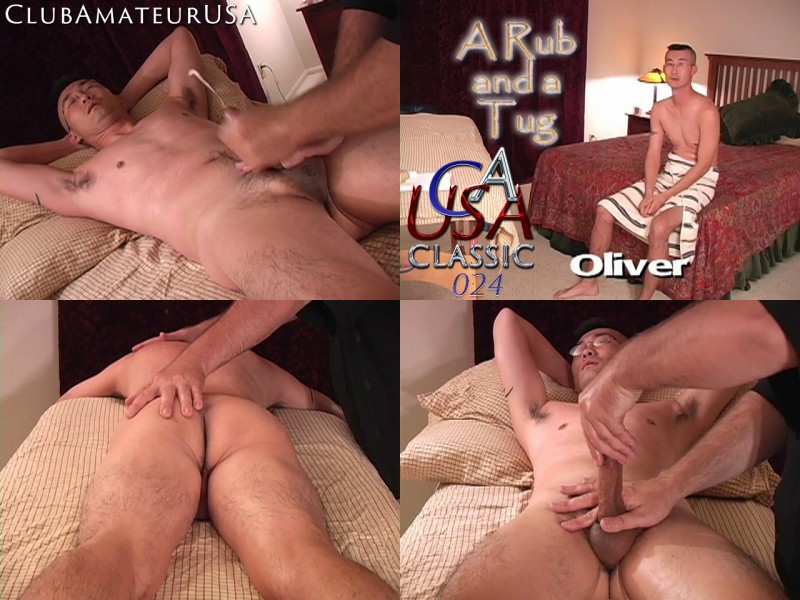 #clubamateurusa #causa #model4causa #caseyblack #rubntug #gaymassage #eroticmassage #sexploreyourcuriosity