Classic CAUSA 267 Morgan

When Morgan appeared on CAUSA, he was active duty military stationed in the Valley. Today, he's 29 and now lives on the East Coast. This was Morgan's last shoot, and here's what I had to say in July 2008:
Morgan's back for more, and as I'm sure most of you know, I think this 20 year old, military boy is some dayum-good Hot Chocolate! When he emailed me this week to say that he'd like to do another video, I knew that I needed to get him to go further in his sexploration. I first tried for actual penetration with the slimline silver bullet vibrator, but Morgan shot back that he wasn't ready for penetration. So, I figured that I could make this video just as erotic & sensual without actually sticking the vibe IN his hole.
I was so-o-o-o-o right!
Even though I do have a full grasp on reality and know that Morgan continues to shoot vids because he likes the extra income, I do also believe that somewhere in the dark recesses of his mind despite his "I'm straight" protestations, he likes having his body & cock worshipped by another guy. If that weren't the case, then Morgan would not have been on the edge of orgasm over and over and over again throughout all three shoots — with this shoot being no exception.
Thankfully, repeated reminders to relax & enjoy himself finally got through to him, and Morgan looked a lot less like a deer in headlights during this shoot. Though I could see that he was a little apprehensive when I had him on his back and brought his knees up to his chest to expose his virgin mangina.
And let's just say that as with his cock Morgan's protestations about being straight & not into this or that, the same was true of his manhole. From his first time being rimmed (and let me just tell you that made my year) to his first time having a sex toy pressed up against his back door, Morgan's involuntary responses told a whole other story!
When my face wasn't buried in his ass and the silver vibe was working its magic, I could see Morgan's closed eyelids fluttering like a hummingbird's wings, and as soon as the toes on his feet curled tighter than a pair of Spanx on Oprah's thighs, I knew that dear ol' Morgan had found his 7th Heaven! LOL! (Note in May 2017: this must be one of my now-favorite sentences! lol)
That's when I decided that was the position I wanted him to be in during orgasm because I knew that it'd be one of the best cumshots on video and for Morgan's pleasure. Both were true, and of course, his response when asked about it, "it was different."
Uh…huh… Different, I'm sure, as in, "I'm going right out and finding some nasty chick to hook up with who'll eat my ass and ram me with her strap-on. All. Night. Long."
Then again, maybe that's just my fantasy for Morgan. 😛
We'll find out the next time he's ready to do another video and Morgan wants to the slimline silver vibrator IN him and not just ON him.
Enjoy!
CB ~ Casey Black ~ Messing. With. TexAZ. ©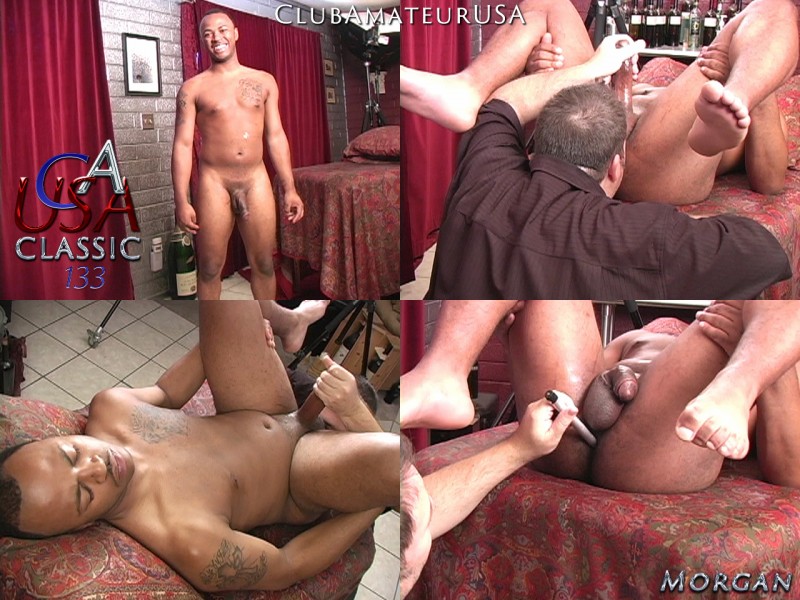 #clubamateurusa #causa #model4causa #caseyblack #rubntug #gaymassage #eroticmassage #sexploreyourcuriosity