Classic CAUSA 068 D. Cypher

D. Cypher | 21 | 6'0″ | 170# | 7.0″ | Brown Hair | Brown Eyes | Straight & Sexploring | Originally aired September 2004
Here we are over a decade later, and revisiting D. Cypher reminds me of the huge crush that I (and many) had on this young man. From the eyes & smile that would light up the room to his gentle spirit & energy the enveloped, he had "it." His last public posts on social media date back to 2007 – 2008 wherein he moved back to his native Canada, got married, & became a new dad.
Here's the storyboard from September 2004:
For those of you who frequent like-genre sites, you'll recognize this week's model from a couple of others. When D. Cypher (kudos to Shado for coming up with that play on names) emailed me Labor Day weekend, I was a bit hesitant to consider shooting with him given the fact that he has appeared elsewhere. Over the last year, I've been very careful not to step on any toes, as it were, of the folks from my life prior to ClubAmateurUSA.com. After much contemplation, I figured that since they've begun recruiting some of their models from my favorite sex & swingers site where 95% of this sites models were found, then it's quite alright for me to shoot with guys from other sites who proactively approach me to model.
I am absolutely thrilled that I chose to go forward in a shoot with D. Cypher. What a genuinely nice guy he is. You know that there are times in your life when you meet someone and you feel like you've known them forever — there's just an ease in communication between the two of you. From the moment that D. Cypher entered my home, there was that ease between us. And there were a few coincidences that struck me, as well. He shares the same surname as my step-father's family. After leaving Alaska, he spent a couple of years in Seattle (I lived there from '92 to '02), and a guy who could be his twin (and a former relationship of mine) lives there as well. It was uncanny how much he looked like the former, and when I wasn't facing him while he spoke, the two of them have the same cadence and intonation in their voices. It definitely made me take pause… In addition, D. Cypher is (as he will tell you himself) an old soul — plus he has such a very gentle spirit about him.
Of course, the reason why he came to me and the reason why y'all are here…let's talk about sex, baybee. D. Cypher is absolutely beautiful. Dear gawd… Just thinking about those big brown eyes makes me moist! lol
He complained that he would like to be bigger — bulkier, but personally, I think that he has a phenomenal body. Would love to see him in a pair of those Michael Phelps swim suits. Hehehe…
D. Cypher is looking to make a career in the adult entertainment industry. As he told me in email:
"As you may well know, I do gay for pay, but I do most of my best work with girls!"
So, yup…he's straight and open-minded about sex. The majority of D. Cypher's video work is with hetero-content video producers in the Valley, and on his model app he checked that his girlfriend would be willing to do shoots with him. Obviously, D. Cypher & his girlfriend are comfortable with his participation in the gay side of the business, and I know that he's learned that the "Dark Side" pays the guys a helluva lot more. 😀
If you've seen D. Cypher's other male-male video work, then you know that he's performed some reciprocal activities with other guys. So, I knew that I wasn't getting a "first time" experience from him.
Well………actually, it turned out that I did. If you've seen *my* work, then you know that it's not "just a massage." It's a phenomenal sensual experience that allows the participant to focus on the sexual pleasure of his entire body. That is typically a first-time sexperience for nearly all who grace the ClubAmateurUSA.com massage table.
As you'll hear us discuss at the end of the shoot, the "full-body massage and handjob" that I described to him over the phone, in no way compared to the actual event.
I always feel a much greater sense of satisfaction when I hear such positive feedback from guys who have participated in other adult, amateur video productions prior to ClubAmateurUSA.com. If I can make a hot video and give a "veteran" an intensely pleasurable sexual experience…well, that's a good thing.
I'm sure that you'll enjoy watching such a beautiful young man, D. Cypher, as he indulges in "A Rub & A Tug."
P.S. Once again, another model with pubes! 😉
Enjoy!
CB ~ Casey Black ~ Messing. With. TexAZ. ©
#clubamateurusa #causa #model4causa #caseyblack #rubntug #gaymassage #eroticmassage #sexploreyourcuriosity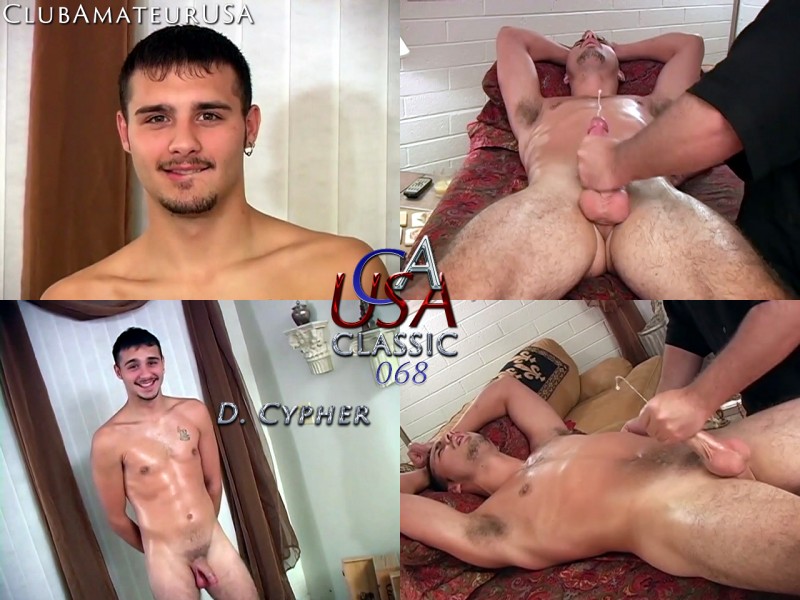 Disqus Below