CAUSA 324 – Tristan Sterling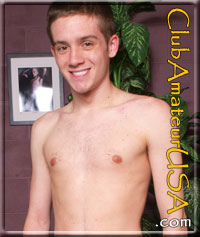 Tristan Sterling
20 – 5′ 6″ – 120# 7.5″
Brown Hair – Brown Eyes
Straight & Open Minded
Tristan came down our way to take some time off and blow off some steam from his retail job up in Orlando where he likes to hang out with his friends at the movies, the mall or the beach.
Being in retail, Tristan is on his feet all the time and his lower back and gluts where tight, which Matthew very quickly determined and went to work on immediately with his fingers.
Coaxing Tristan to relax and enjoy the moment, Matthew introduces some toys into the experience and Tristan is able to relax enough and feels comfortable enough with Matthew to get into some man on man kissing.  We think Tristan will be back for more some day, he really enjoyed his visit with us, as you will see!!!