CAUSA 321 – Eddie Kordova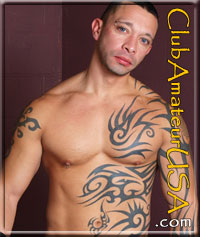 Eddie Kordova
34 – 5′ 8″ – 172# 8″
Black Hair – Gray Eyes
Bisexual, really enjoys both sexes
Eddie was in Florida visiting family. He's from the Windy City and we have a feeling the wind is not the only thing that gets blown regularly up there!
He was out shooting some hoops when we approached him and was glad to try out a massage. Eddie told us later that he had fooled around with a a guy before but not like this.
Eddie is definitely bisexual, sexy and an absolute tiger in the sack. One glance from those beautiful eyes and you just start to melt. We really hope to see more of him in the future!